Canton Garage Door Service
Need someone to repair your garage door or possibly, a custom heavy carriage garage door, but you're not quite sure who to call? Finding the right garage door technician no longer has to be a hassle. Our skilled technicians can repair your garage door right the first time and chances are, better than the time it was originally installed.
At Legacy Garage Doors, we are Canton's residential and commercial garage door installation and repair specialists. We offer a full-range of overhead garage door styles for your home at competitive prices. Each has an assortment of styles and options available to beautify your home and create the ideal garage door solution for your needs for years to come. We also work with most garage door openers and can provide a solution for your garage door opener problems.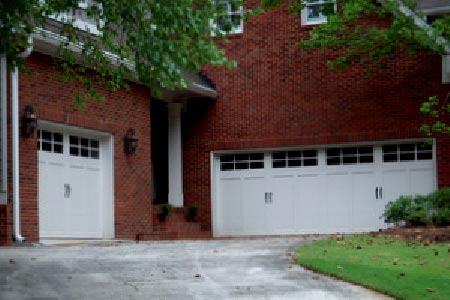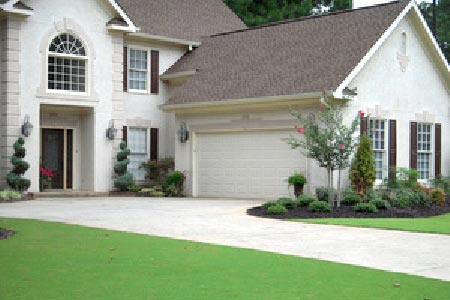 Marietta GA Garage Door Repairs
Canton, Marietta and Alpharetta residents choose Legacy Garage Doors for all of their garage door service and repair needs because we not only offer competitive prices, but our customer service is unmatched. Most of all, we offer sales and service on all makes and models. We guarantee superior garage door installation and repair services from our well trained, licensed and insured technicians.
Although there are many how-to books and even television networks geared towards do-it-yourself home improvement projects, if your garage door is improperly installed, it can be expensive to repair. That's why we recommend hiring a trained professional to install your garage door or repair your garage door.
Visit our garage door troubleshooting page for details on projects that you can do yourself and projects we recommend hiring a licensed garage door technician.
Contact Us Today!
For further details on our garage door services and for a FREE estimate, contact Legacy Garage Doors today. One of our friendly and knowledgeable garage door specialists are ready to assist you. We look forward to hearing from you.
Legacy Garage Doors is a locally owned and family operated business.
Our commitment to providing the community that we live in with excellence is unmatched in our industry. We understand that you want your garage door repaired quickly, you want to work with people you can trust and you want a fair price. Check out our testimonials and then give us a call to schedule your appointment!
Our Services
New Garage Doors
We offer various residential garage doors to choose from; including Traditional Steel, Steel Carriage House, Premier Steel Carriage House and Wood Carriage House.
Read More About New Garage Doors
Garage Door Openers
Need a garage door opener? Legacy Garage Doors offers the highest quality door openers in Atlanta. Our highly trained installers are reliable and dedicated to providing first-rate service. Contact us today to schedule an on-site inspection and installation appointment.
Read More About Garage Door Openers
Garage Door Service & Repair
Our licensed and insured technicians can repair practically any door problem from broken door hinges, broken springs, worn rollers, rotten or damaged sections. No job is too large or small for us to handle. We also provide minor servicing to new door replacement.
Read More About Garage Door Service & Repair
Troubleshooting
Are you having difficulty getting your garage door open or closed? We offer tips and suggestions on minor service problems. Visit our troubleshooting page for further details.
Read More About Troubleshooting
Client Reviews
Legacy Garage Doors
Legacy Garage Door came out and replaced two of my garage doors after my daughter drove through them. They came out right away, were very through, gave us plenty of options for our price range. They were willing to do what was needed quickly to make sure our house was secure. We appreciated their honesty and integrity. We have recommend them to others.
Patty J.
We had Legacy install two garage doors and one opener. They came out that morning and were done by the end of the day. They were very easy to talk to and work with. We highly recommend them and know other people that have used them also and have had a good experience with them.
Jimmy A.
We had Legacy come out and give us an estimate for replacing two garage doors. They gave us several options to go with. I travel alot and needed them to work within my schedule. They were very helpful with that. Legacy was by far one of the helpful, pleasant and very professional contractors that I have worked with. I thought they were top notch and have referred them to several of my co-workers.
Rick W.
One of the springs bent and pulley broke on our garage door. Legacy came out and gave us the option to repair or replace the door. We chose to repair the door, and very thankful to them for being honest and not pushy. We would highly recommend them.
Drew N.
Great Company! Quality work, quality materials, they do what they say they are going to do. They treat you like family. I would highly recommend them.
Dan S.
Giving a shout out for the great service I received last week! I made an emergency call at night when my garage door would not close, leaving a 2 foot opening. I received a call back 5 minutes later, and was given an appointment the next morning. My garage door was fixed and the service was great! I will use their service if ever I need service again, and will also recommend their service for others. I found this company through the Cobb County Service Review book that came in the mail; I can see why they got 5 star rating!! Thank you!
TamFram
Contact Us
MAILING ADDRESS
P.O. Box 5303, Canton, GA 30114
HOURS
Monday – Friday
7:00am – 7:00pm
Saturday
8:00am – 4:00pm
Closed Sunday
for Worship